Elizabeth Wilcock (April 29, 1979?)
I'm usually very good with research when it comes to finding out someone's birth details. In fact, if there is any record of a public figure's birth, it is normally a simple matter of looking it up on-line. Not so, in this case. Elizabeth Wilcock (formerly Beth Leone) is very coy about her birth year, although she readily admitted in a post last April 29th on Facebook that it was her birthday. And because she was raised in Oregon as I child, I'm assuming she was born there. But, honestly, that's all a matter of conjecture. I even posted a request on her internet page for her birth details, but I don't think I'll get a reply. I wonder why not?
Edgar Cayce's readings also said he had been a major Egyptian political and spiritual figure during the time the Great Pyramid was built, which he dated as starting roughly 11,450 years ago. This lines up very nicely with the research of Robert Bauval and Graham Hancock regarding the so-called Giza alignment. The three pyramids at Giza line up with the three major stars in the belt of the constellation Orion, and the Nile River corresponds with the position of the Milky Way Galaxy. Since the stars drift by one degree every seventy-two years in the night sky, there is only one time in the past where heaven and earth are properly aligned. That time was calculated as precisely identical to what Cayce had reported in his readings for when the Great Pyramid was built. The Cayce readings indicated that his name had been Ra-Ptah, and he was one of the two main people who designed and built the Great Pyramid.

Ra-Ptah apparently had multiple wives in that lifetime. His last wife was with him when he passed on, and her name was Tar-Ello. When I first did the Conscious Life Expo in 2005, a woman came up to me and gave me a transcript from a Cayce book about all of this. By sheer happenstance, as Elizabeth and I were getting ready to move only a few months ago, I was going through old papers, looking for tax documents, and I found this photocopy from the book. When I read what it said about Tar-Ello, it described Elizabeth 100 percent. It's exactly the same way she looks with the blonde hair, blue eyes, thin figure, and all the personality characteristics. Ra-Ptah even called her Little One, which was a nickname I had already been calling her in this lifetime.

(from Spiritual Biz Magazine: Cover Story – David and Elizabeth Wilcock)
I'd never heard of Ra-Ptah's wife called Tar-Ello. But I knew of a person who was known as Tek-Le-On.
Mrs. C.: You will have before you the life existence in the earth plane of (1223) born October 21, 1906, in Troy, N.C., and the earthly existence of this entity as Tek-Le-On, in Egypt; being among those purified in the Temple of Sacrifice for the bringing into the world of a purer, a better race.

Edgar Cayce's Story of Jesus (page 90)
Did you see what just happened there? I read the cover story quote yesterday, and this morning I went looking for the relevant information in my library. Tek-Le-On = Beth Leone.
David: Before Elizabeth and I got together, my colleague Corey Goode had been having some very interesting ET contacts. That's another long story, but suffice it to say that Corey appears to be having in-person contact with multiple different ET groups, mostly benevolent. One of the groups that he claims to be in contact with consists of human-looking people who apparently live in giant caverns inside the earth, who call themselves the Anshar. Before Elizabeth had shown up in my life, Corey had gotten a very specific message from this Anshar priestess named Karee. She told him that two people were being steered into my life by the Anshar themselves, and that they were going to have a very positive spiritual influence on me.

I was actively looking for who these two people would be. The first one who came in ended up being the minister at my wedding, Leon Kennedy. He is a legendary Motown DJ, a Hollywood star who appeared in Chuck Norris films, and a spiritual friend to many of the top celebrities, including Muhammad Ali, Michael Jackson and Sammy Davis Junior. Elizabeth ended up being the second person I was told to anticipate. Karee's primary description of herself was as a priestess. Once Elizabeth and I got together, I realized that she was about to launch a program called the Priestess Path. That was very, very bizarre.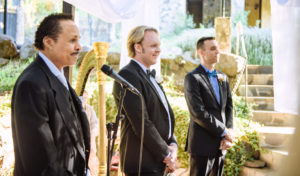 Then, later we find out from Corey that Karee's sister had been specifically working on Elizabeth almost full-time to give her precise telepathic information. Elizabeth was able to recognize this psychically, and actually had intuitive visions involving this same person. Elizabeth was given her name, which we are not allowed to disclose at this point. I told Corey the name and he was freaked out, because he was not allowed to tell me what Karee's sister's name was.

Elizabeth: He didn't admit that the name was correct until I told him about it myself.

David: That is correct. Corey didn't tell me that the name was right, but he just acted really freaked out when I shared it with him. Later, Elizabeth talked to him separately and told him the name she had gotten, and he confirmed that it was the same name that he had been given. This again was very, very interesting: very, very bizarre stuff.

Cover Story…
On this same on-line post, Karee writes a comment which basically says that she is David's "spouse by a Native American marriage ceremony", and now she finds she's been replaced by this white woman… (You cannot make this stuff up.)
Because David is so open, honest and transparent (or at least I thought he was), it comes as a bit of a shock to find that his life has been turned upside down by this new relationship. Is this why he's so caught up in the whole QAnon conspiracy theory 'stuff'? I'm beginning to think so.
(Please note that the spelling of Ms. Leone on her charts is "Leon" on purpose, since I do not have 'permission' to post anything about her.)
So much of this chart is speculative, I doubt whether it will be an accurate representation of Elizabeth. The Yod pointing at Uranus @ 19 Scorpio (formed from inconjuncts to the Moon and Mars) tells me just about everything I need to know. There is one other inconjunct between Venus and Saturn. I won't delineate these aspects because I have no proof that they are real.
For me, the real test of its accuracy comes when I combine Elizabeth's chart with David's. Due to the lack of timing details, the connections may be incorrect, but interesting, nonetheless.
Elizabeth's Ascendant is conjunct David's Pluto! Her Sun and his Moon are conjunct in Taurus. Her Saturn is conjunct his Midheaven. And his Uranus is conjunct her Pluto in Libra, while his Ascendant is conjunct her Uranus in Scorpio. I think we have a fairly good match, here.
*A user named "Q Clearance Patriot" first appeared on the /pol/ board of 4chan on October 28, 2017