Main-In vs. In-Person Voting
It's a situation that is being exploited by one side over the other. (Or so each side thinks…)
The panic seems to be the erroneous thought that only Republicans vote in person, on the day of elections. Democrats, it seems, prefer to mail their ballots in, or vote in advance polls. It might be the same in Canada, because there are always plenty of reasons for not being able to attend on election day.
But is it justified to tighten the rules as to who can mail their vote in?
In the old days, when I was younger, the electorate took their responsibilities seriously. Then, as now, if you couldn't be bothered to get out and vote for your favourite candidate, you went about your day as usual. That's why it was rare to have more than half the eligible voters turn up. 2020 was an experiment, mainly because COVID-19 has suppressed many peoples' impulse to 'damn the torpedoes and full speed ahead.' But this year's American mid-term elections should be 'safer'. Therefore, mail-in ballots won't be absolutely necessary, like they were in 2020.
But Is There a Hidden Colour Divide?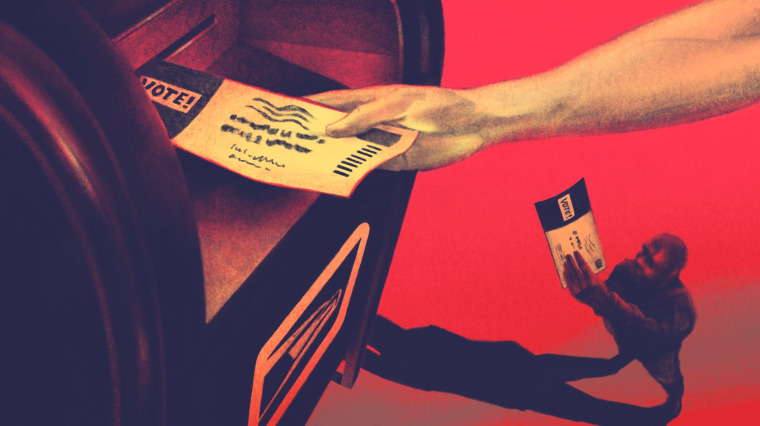 NBC News asked:
A white person and a Black person vote by mail in the same state. Whose ballot is more likely to be rejected?

NBC News
Aye, there's the rub. Because it is assumed that a 'Black person' would vote Democrat, the question is moot.
And while Black voters no longer must guess the number of jelly beans in a jar to cast a ballot, inequality persists. States have put in place voter ID requirements and restrictive voting laws that disproportionately make it harder for people of color to vote, while persistent gerrymandering dilutes the power of voters.

Ibid
It seems a silly question, but what are they afraid of: a woman of colour in the highest position of power? That seems to be it. Two stereotypes suppressed at the same time. This will boomerang on them.